Hello friends!
First! Exciting news! I expect to finish the first draft of Galaxy Cruise 3: Trial by Leisure this week. I'm hesitant to give a release date, because we all know how much I suck at hitting them, but I'm gonna say you can expect to have this thing on your hot little Kindle some time in April.
In the meantime, I have a special gift for you…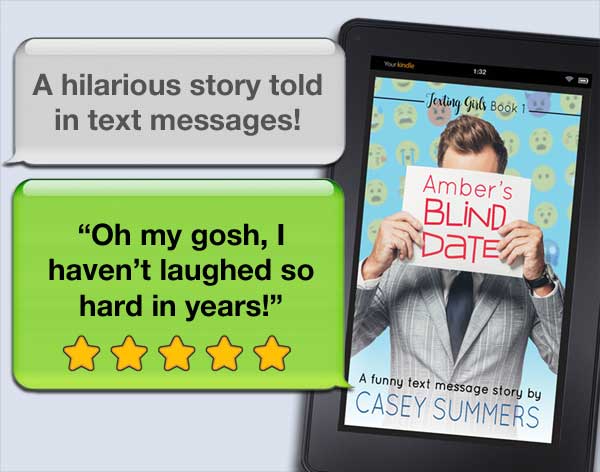 My silly text-messaging book Amber's Blind Date (written as Casey Summers) is totally free from March 8 to March 10!
It's a madcap adventure told entirely through text messages, which means most people can devour the whole thing in about an hour or so. Perfect for that boring commute!*
Click on over and grab it from Amazon, and if you dig it, please be a pal and leave a nice review. 🙂
* Assuming you are on public transit. Please do not drive and read Amber's Blind Date. It's a light read, but not that light.
Get it free
---

Free action and adventure…
by Jay Toney
Doc Roberts is a privateer working for the Alliance military to destabilize shipping, trade, and the planetary governments of the Coalition of Free Worlds, to sway them to accept Alliance protection. He does this by raiding colonized worlds, and hijacking freighters loaded with trade goods.
With the Alliance, failure is not acceptable. Those who fail are sent to reeducation camps to have their minds wiped and reprogrammed with a submissive personality, then they are placed in a control collar, and sold at auction to the highest bidder. Leaders who fail are publicly executed by hanging.
Doc is given a job, stealing the Mindharp of Tombaku. He only has a limited period of time to get it and return. He learns that he is not the first one given this mission. If he succeeds, it is the end of the Coalition. If he fails… he loses his life.
Get it free
---
An author interview… with me!
Leon Stevens asks me all the hard-hitting questions, digging up all the dirt you ever wanted to know about your old pal, Marcus.
Like, "How do you write comedy?" and "What's the weirdest thing you've ever eaten?" and "What does 'award-adjacent author' mean, anyway?"


Sorry, friends! This content is for subscribers only.
Sign up for my list to get updates straight to your inbox, with all the perks!
I'll even send a couple of free ebooks!




---

A collection of highly rated books, everything with over four stars, and all available to read for free in Kindle Unlimited.
Read those awesome books
---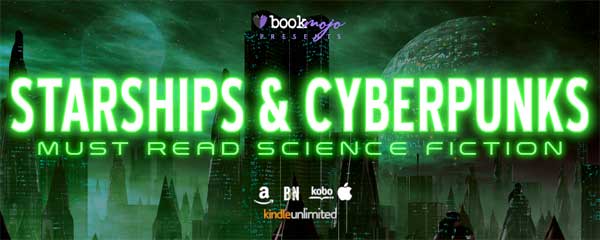 This collection of neat sci-fi stories also has a secret link for a chance to win a $250 Amazon gift card. Woot woot!
Books and a contest… two bits!
---
OK Go… check out these music videos
Here's a bit of random fun for you. You remember the band OK Go? They made a big splash in 2009 with that viral music video with the treadmills.
Well, my pal and reader J.B. emailed to alert me to the fact that they've made a bunch more videos since then, each more creative and insane than the last.
I enjoyed them so much, I though I'd share them with you too. OK Go have fun!
White Knuckles – This has to be trick photography. I mean, it can't really be one take. With all those dogs? IT'S INSANE.
Obsession – How they got 657 inkjet printers to go this long without jamming or bursting into flames ins beyond me.
This Too Shall Pass – Classic Rube Goldberg Machine action.
The Writing's On the Wall – This one is four full minutes of messing with perspective, and your head.
Your old pal,