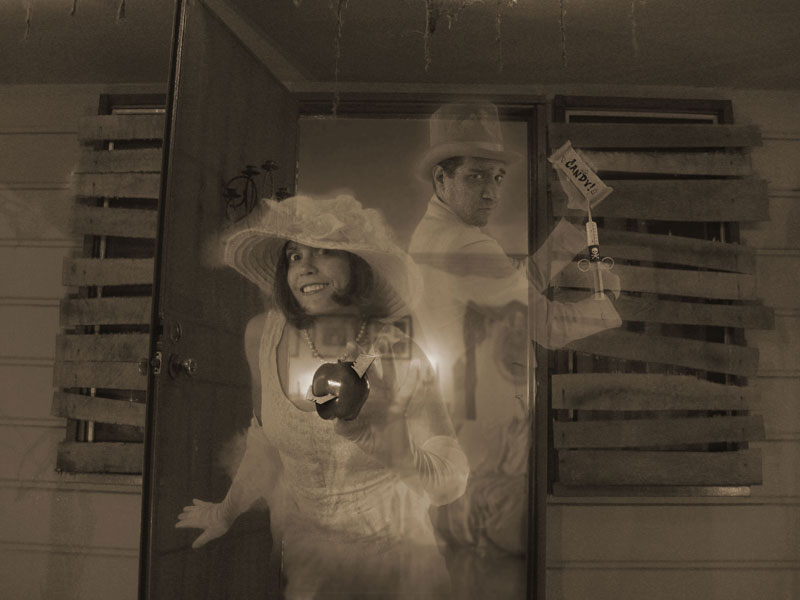 Hello friends! I hope you've been enjoying the spooky season! Today I have a little Halloween memory to share with you…
In 1983, my dad won a contest* that sent our family to Walt Disney World. The thing that sparked wonder in my impressionable, seven-year-old brain more than anything else was the Haunted Mansion. From that day on, I was forever obsessed with creepy old crypts, and abandoned houses, and all places where grim grinning ghosts may lurk in the darkness.
The obsession never faded, and many years later, my wife and I capitalized on our mutual love for the spooky to create a haunted mansion of our own. It manifested yearly in the form of an insanely elaborate Halloween party that transformed our Los Angeles home into an eerie place known as MacAbree Manor.
Never the types to do something halfway, our party had its own mythos and back story…
On Halloween night, 1939, Maxwell and Miranda MacAbree threw their first MacAbree Manor Masquerade Ball… and their last.

At the height of the festivities, MacAbree Manor was struck by lightning and burned to the ground, taking with it the lives of all one hundred and thirty-two souls within.

Since then, the mischievous spirits of the MacAbrees and their phantom guests have returned to the mansion's ruins every Halloween to bring the MacAbree Manor Masquerade Ball back from the grave!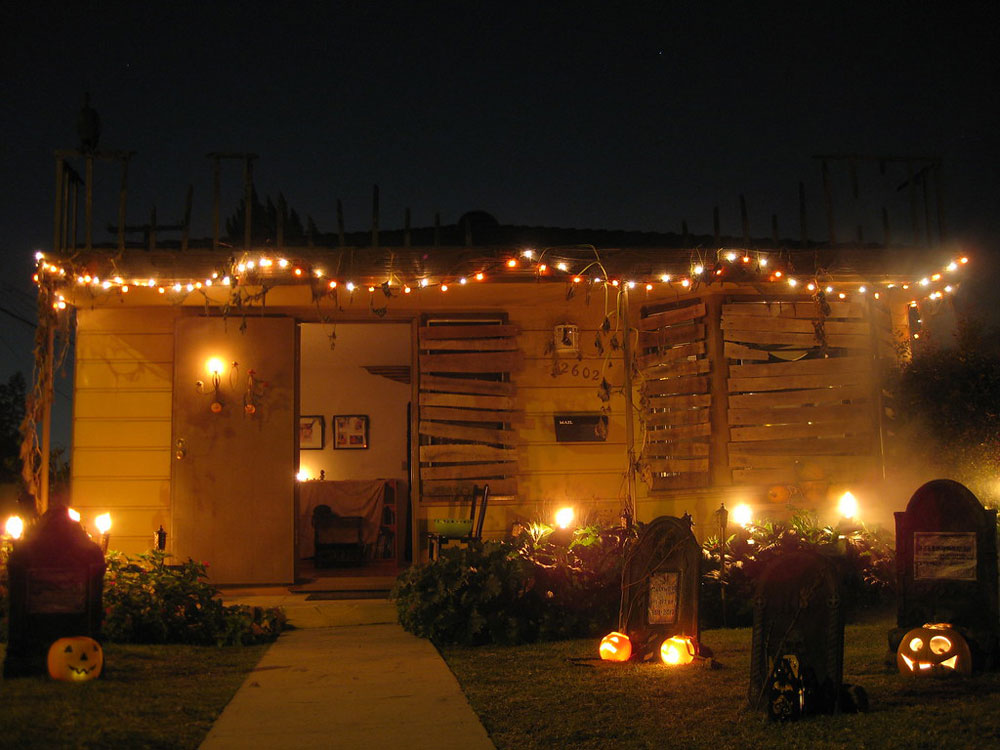 Here's a peek at the faux-dilapidated exterior of the manor, but the real fun was on the inside.
The whole house was loaded with homemade audio-visual haunting effects that we cobbled together from what was available at the time, including an animated mounted deer head and a talking skeleton that we rigged to do (terrible) shtick and comedy routines. Unfortunately these were the days before ubiquitous camera phones, so I don't have any video of them fully set up in the mansion, but I do have this ridiculous little test video.
One of the most popular and mystifying effects was a haunted mirror that hung in the hallway. Here's how it looked when Velma investigated it.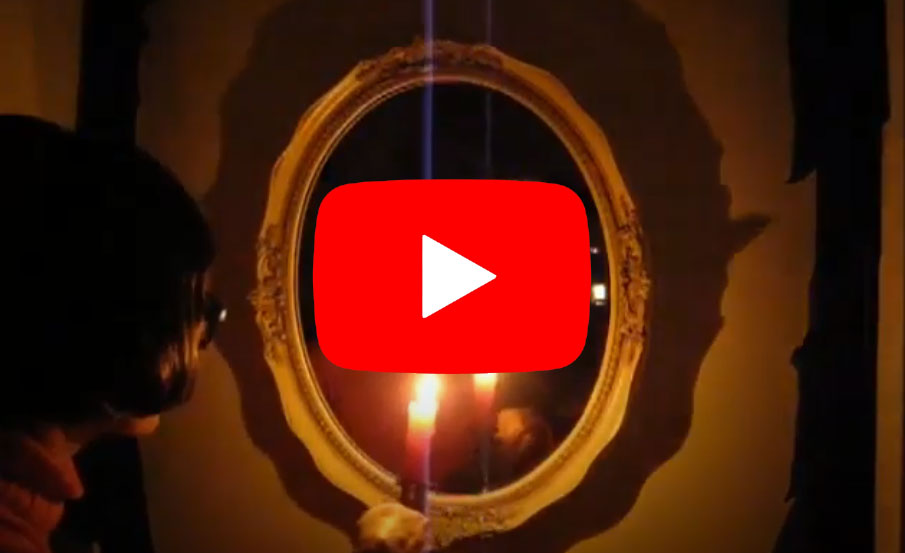 Now, keep in mind, this was the early 2000s. This was before flat-screen televisions were common. And long before you could just waltz into Home Depot and buy this kind of thing off-the-shelf.
At the time, the effect was genuinely surprising. People would be startled when they saw the ghosts in the glass, and then immediately start looking for a hidden projector. They never found one. In eight years, nobody ever figured out how the effect worked.
The person who came the closest (without even realizing it) was the observant guest who asked, bewildered, "Doesn't your house have any bedrooms?"
It did have bedrooms. They were farther down the hall, behind the totally fake wall that held the haunted mirror.
Using the clunky old technology of the day, Amanda and I built this absurdly heavy-duty framework to hold up a CRT television behind a half-silvered mirror. Here are some archival pictures of the work in progress.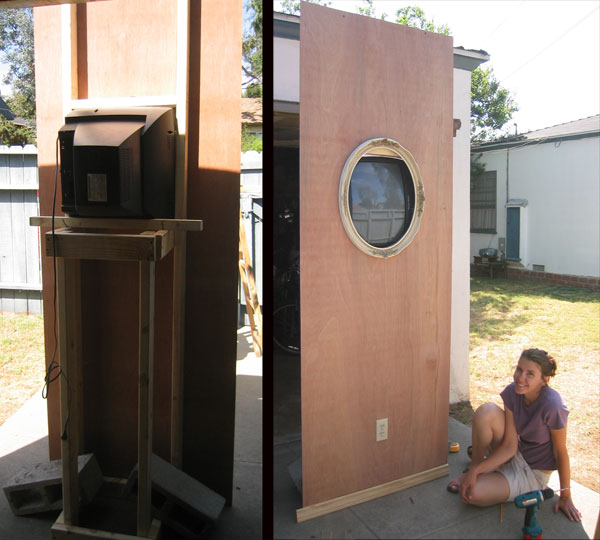 When it was finished and painted, it slotted perfectly into the existing hallway. In the dim, spooky light of the party, it was indistinguishable from the real walls. Adding to the effect was a fake electrical outlet that had a working lamp plugged into it, which was secretly battery powered. (See "Not the types to do something halfway.")
Dressed as the deceased party hosts, Maxwell and Miranda, we made a ten-minute video of ghostly appearances that looped on the TV (powered by an ornery first-generation iPod touch).
This year I rediscovered that old, low-resolution video and thought it would be fun to share it with you. Though it lacks the gravitas of the original installation, I made a YouTube recreation of the MacAbree Manor mirror to haunt the background of your Halloween party this year.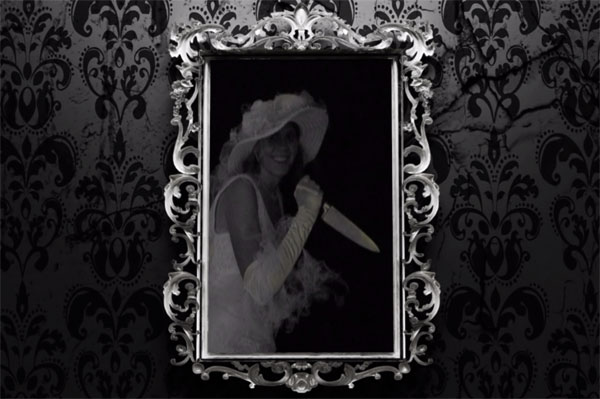 Be aware, though the party music runs for three hours, the ghosts only haunt the mirror in a ten-minute loop (appearing about every 15 seconds).
I hope you enjoy a little spooky party ambiance from our ghostly alter-egos. Have a safe and spooky Halloween!
Your old pal,

* He drank so much TAB that he managed to collect the right bottle-cap letters to spell the winning phrase. What that phrase was has been lost to the ages.
---
Additional Reading

MONSTER HUNTING FOR FUN AND PROFIT!
by H.P. Holo
Pix and Jaz are two girls who just want to hunt monsters, craft armor, and pay off their college loans—but when a colossal new monster falls through the portals in the Dazzling Skies, it'll take all their skills to survive it.
Their skill levels? Slightly above noob.
Fortunately, they have their oversized swords, a lot of sass … and one giant monster friend who might help them out.
For a price …
***
About the Series: Monster Punk Horizon is an exciting new fantasy comedy for fans of the Monster Hunter games and kick-butt ladies fighting monsters for fun and profit! GameLit readers will enjoy the focus on action over stats. Check it out if you like:
★ Monster Hunting Action
★ Hunting Monsters Specifically So You Can Turn Their Skin Into Neat Hats and Stuff
★ Ridiculous Comedy Adventures
★ Even More Ridiculous Weapons
★ Kick-Butt Female Leads
★ Unnecessarily Lavish Descriptions of Food
★ More-Adventure-Than-Stats-'Cause-H.P.'s-Math-Brain-Can't-Keep-Up-With-Stats
★ Cats
Get it for 99 cents
---

Hopeful Sci-Fi & Fantasy
A collection of sci-fi & fantasy novels that bring light and hope for a better future.
Get hopepunked!
---

Funny! Very funny!
Here are some books to give you the giggles!
Check 'em out