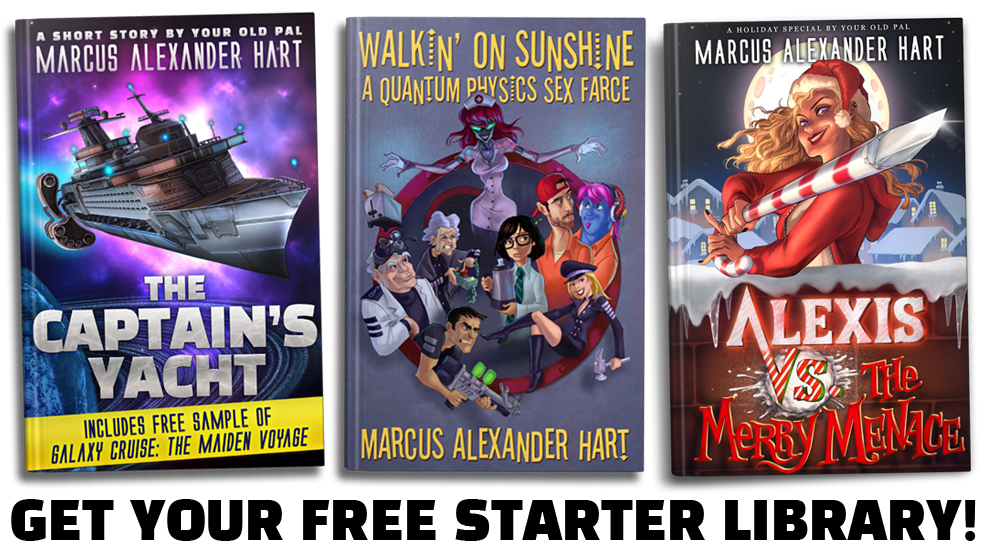 Get a bunch of FREE ebooks when you join the Old Pal Marcus Newsletter!
Just enter your email address below to get:
The Captain's Yacht – A lounge singer reunites with an old flame. Unfortunately it's on a derelict deep-space cruise ship during an alien zombie apocalypse. Includes a free sample of Galaxy Cruise: The Maiden Voyage!
Walkin' on Sunshine – A sci-fi sex farce for the stage
Alexis vs. the Merry Menace – The Alexis McRiott Christmas Special (Free in ebook and crappy audiobook!)
In addition to your free ebooks, you'll also get:
First dibs on free Advance Reader Copies of future novels!
Early sneak-preview chapters!
Exclusive sales and special offers!
Contests!
Funny stories!
Recommendations of awesome books!
The occasional free thing!
Exclamation points!
Enter your email address and mash the button!