Hello friends!
I hope you all had a great Halloween, and great costumes! My wife Amanda and I had fun confusing children and adults alike by dressing as "Obscure Characters from Prime-Time TV 1981."
Believe it or not, that's The Greatest American Hero and First Mate Piggy from the recurring Muppet Show sketch "Pigs in Space"!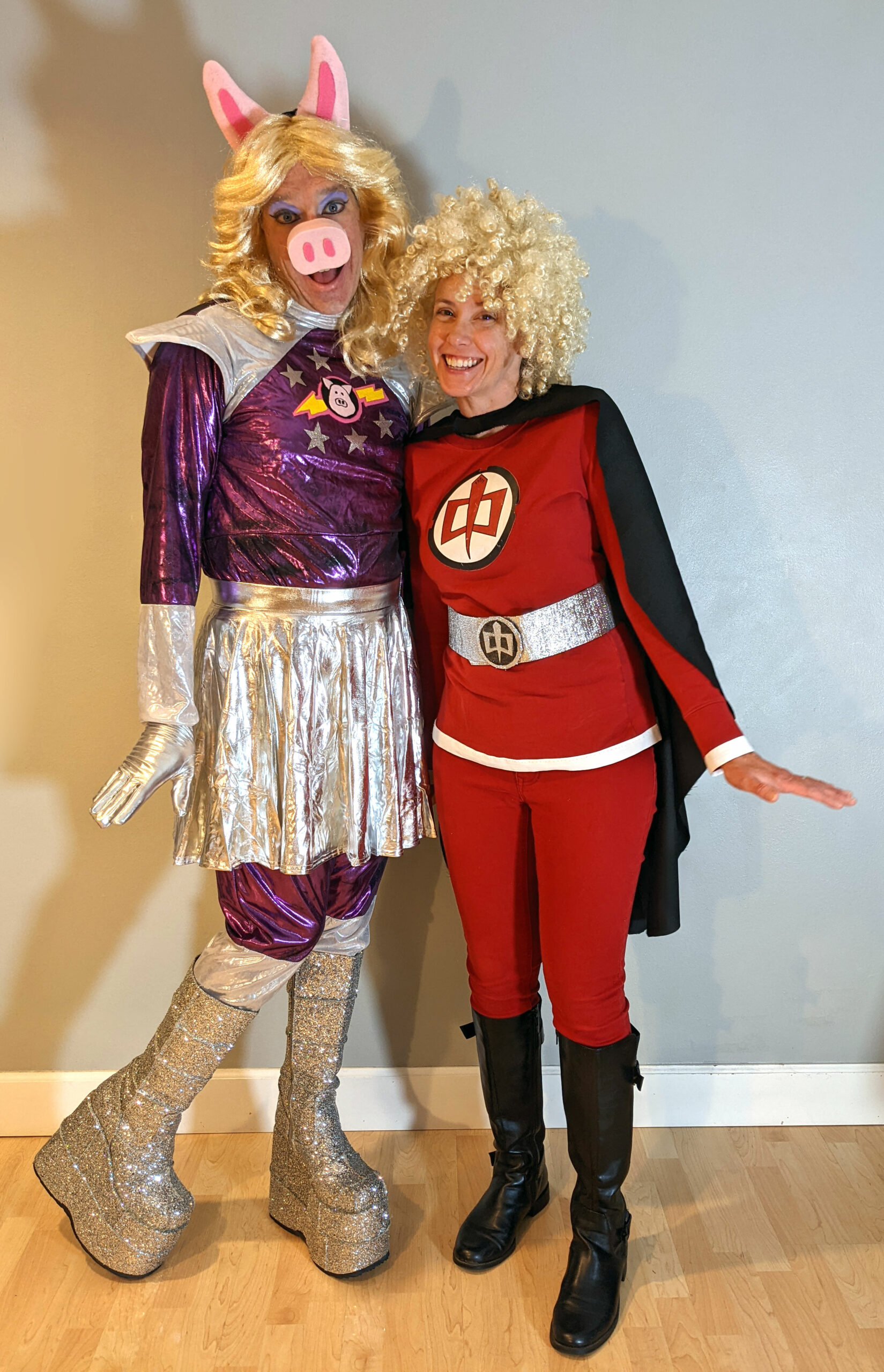 I've always wanted to do a Muppet costume, though I never imagined my first one would be Miss Piggy. But a few days before Halloween I was browsing in a Goodwill and found that satiny purple and silver jumpsuit. It's not even close to screen-accurate, but the second I saw it my internal voice said, "Pigs. In. Spaaaaaaaaace!" And I knew it was meant to be.
And if you're wondering, yes, I did already own a pair of seven-inch platform glitter boots. Because shouldn't everyone?
If you want to see more of our nonsense from the past 20+ years, I made a fun Halloween costume gallery.
---
A pumpkin's fate…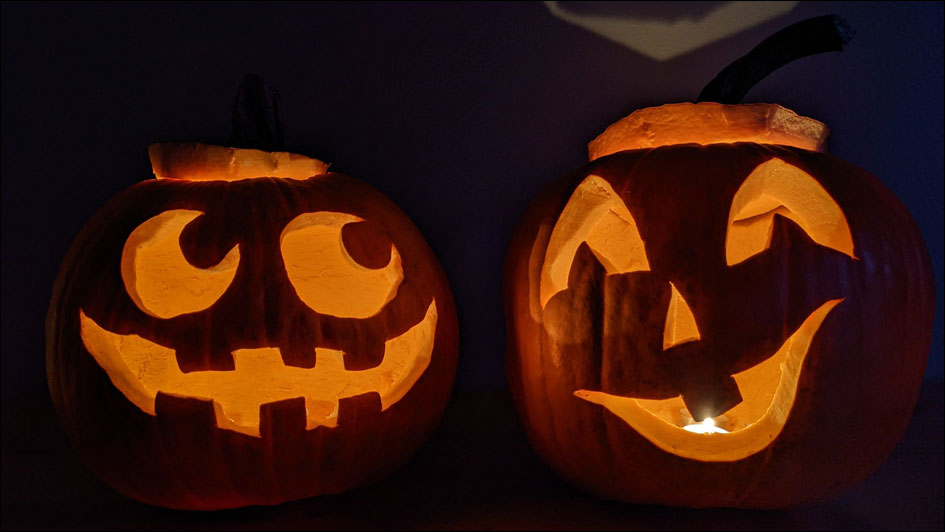 In my last post, I mentioned the epic Halloween parties we used to throw. For these events, we would carve twenty or more Jack O'Lanterns every year.
We'd put so much work and into giving them all unique personalities that it was sad to watch them rot away after Halloween. So somewhere around 15 years ago, we started the tradition of giving our orange friends a noble death by sending them to Pumpkin Valhalla.
The process of sending a Jack O'Lantern to Pumpkin Valhalla is simple. Just throw it in the air as high as you can then get out of the way before it smashes on the ground. Sure, it's childish, but man, is it good Halloween closure.
For your viewing pleasure, here's a video of us sending the Class of 2022 to their final reward…
---
See you in Vegas?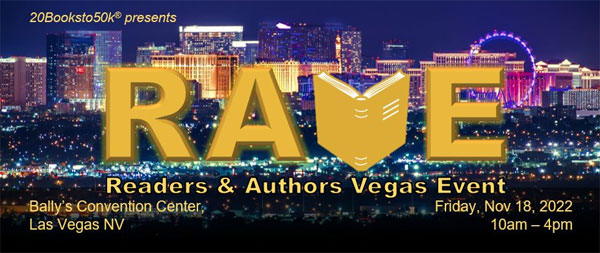 If you love meeting authors, check out the RAVE (Readers & Authors Vegas Event) on Friday, Nov 18 from 10 AM to 4 PM at Bally's on the Las Vegas Strip. It's free and over 250 authors will be there selling and signing their books.
I won't have a  table this year, but I will be lurking as an attendee. If you're around and want to get a book signed, pick up some Galaxy Cruise swag, or just say hi, reply to this email and we can arrange a meetup!
Here are some of the authors who will officially be in attendance:
Kevin J Anderson (Dune and Star Wars)
David Weber (Honor Harrington)
Michael Anderle (Kurtherian Gambit)
Dakota Krout (LitRPG)
Luke Gygax (son of D&D creator Gary Gygax)
Anthea Sharpe (Fantasy)
For all the info, check out the event's Facebook group.
---
Galaxy Cruise 3: Now in Audio!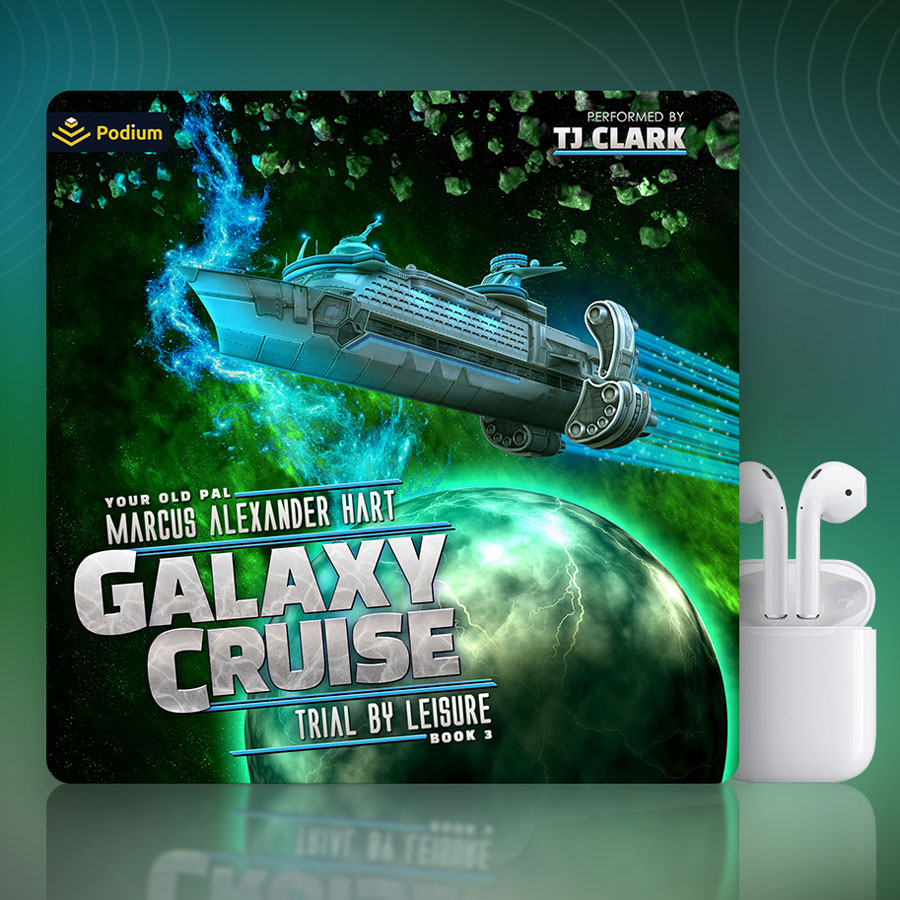 If you're collecting all the Galaxy Cruise books in audio, you'll be happy to know that book three, Galaxy Cruise: Trial by Leisure will be released on November 8, 2022!
Jump on board to hear narrator T.J. Clark's hilarious performance of this nonsense adventure.
Get it on Audible
Get it on Amazon
---
That's all for now. I hope those of you who celebrate it have a great Thanksgiving, and I'll talk to you again in December! 🙂
Your old pal,

---
Additional Reading
Here are some cool sci-fi and fantasy books you may be interested in.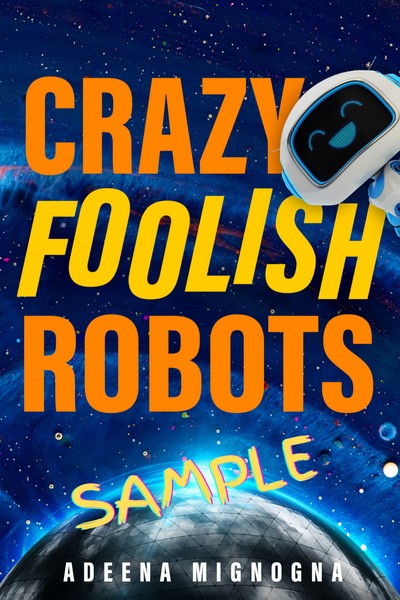 Grab a free sample of Crazy Foolish Robots.
by Adeena Mignogna
My pal Adeena is a real-life rocket scientist who works on some very cool high-tech space stuff. She also hosts The BIG Sci-fi Podcast!
When Ruby gets dumped on a planet full of robots, she has the skills they need to fix a glitch that will end their civilization. How will she overcome her distaste for the mechanical lifeforms to save not only them but all of humanity?
Get the sample
---

Fantasy and Sci-fi fun for your reading pleasure…
Ooh, books!
---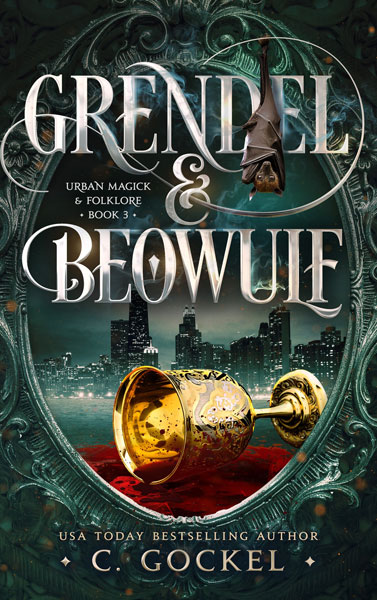 by C. Gockel
Once upon a time, in our ordinary world, there was a grandmother.
She died.
She was reborn as a Vampire in a world of Magick.
The grandmother de-aged. Her ailments healed, her body became strong, and her wrinkles faded.
Her wisdom, however, did not diminish. She knew monsters need monstrous names so they never forget the monsters they are.
She named herself Grendel, after the medieval haunter of borderlands and drinker of warriors' blood, slain by the hero Beowulf.
The name seems appropriate. Grendel the Grandmother haunts the borderlands and drinks the blood of (mostly) evil warriors.
But in a Magickal world, names don't just have meanings, they are prophecies.
And a new hero is rising. He has been molded since birth to fight evil, and been given the tools and skills to vanquish the most insidious evil of all: Vampires.
His name is Beowulf, and he's coming for Grendel.
Check it out