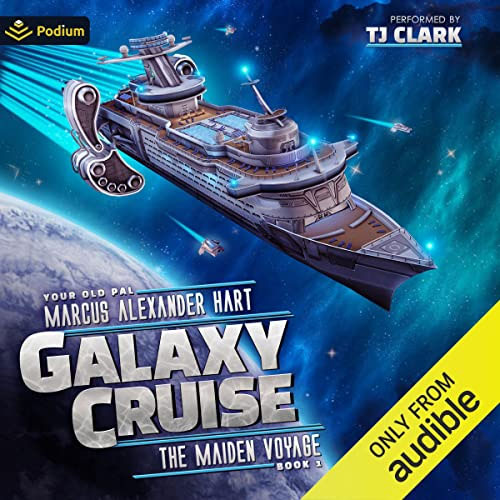 Hello, friends!
Are you eagerly awaiting your chance to hear the Galaxy Cruise books in audio? Well your wait just got really short!
I'm psyched to announce that Podium's audio version of book 1, Galaxy Cruise: The Maiden Voyage will release on August 30.
Even more exciting, the presale is already live! You can check it out on Audible here, or at your local Amazon right here.
And here's another awesome thing: To give you the most bang for your Audible buck, book one also includes narration for the exclusive novella Galaxy Cruise: Language Barrier. That's almost an hour and a half of bonus content. How cool is that?
Once that's out, you won't have to wait long for more. The audio version of book 2, Galaxy Cruise: Royally Screwed is scheduled to release on October 4, followed by book 3, Galaxy Cruise: Trial by Leisure on November 8.
And of course, the final book in the series, Galaxy Cruise: Many Happy Returns will release in ebook and print on September 22. Jump on the presale now to get the discounted pre-release price.
---
Gah! Dilly art!
In my last newsletter, I asked which Americano Grande crew member you wanted to see art for next. By an overwhelming majority, the winner was the Dreda security chief, Lieutenant Commander Marshmallow Hug Dilly Dilly.
This beautiful illustration by James Colvin is pretty much exactly how I always pictured our lovable monster.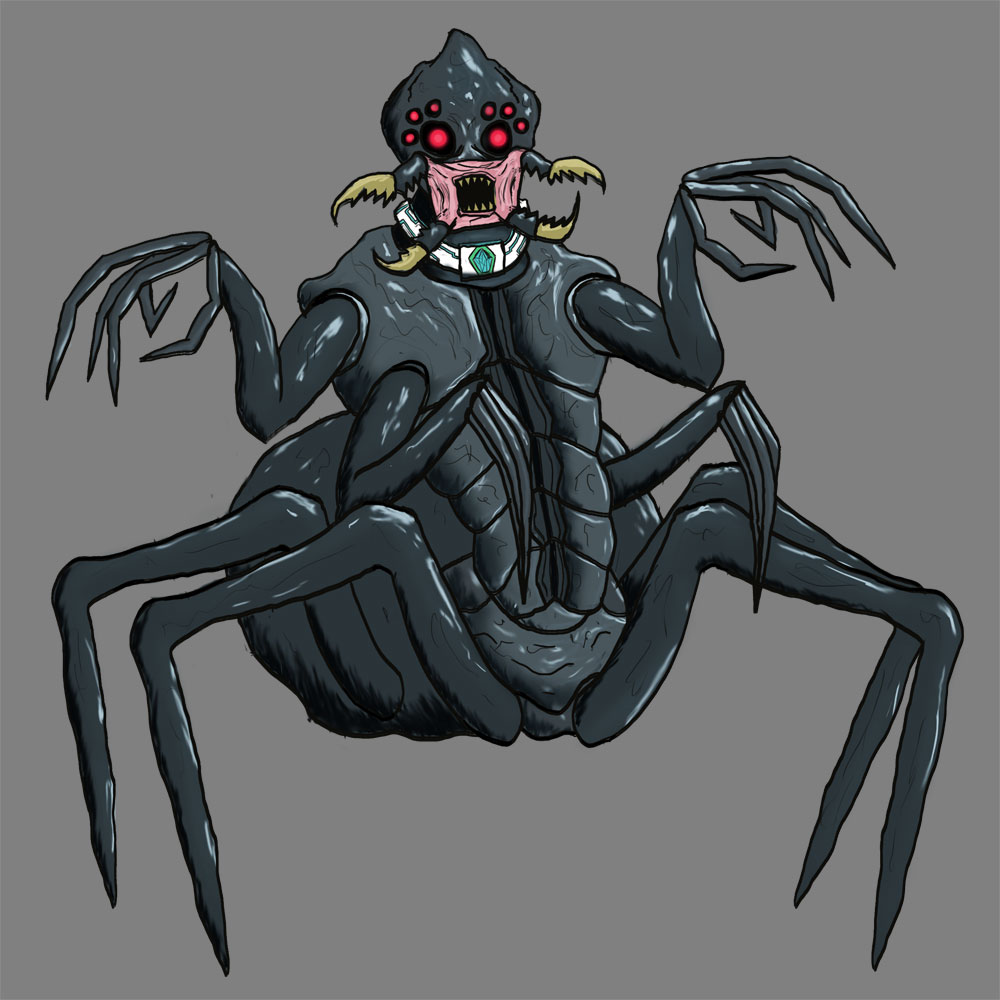 I know, right now some of you are probably saying, "Wait, what?! That's not what Dilly looks like! I pictured it being so much more… cuddly!" But here's how Dilly was first described when it was introduced in book one…
The spider scuttled below him, hissing and clicking. From this vantage point Leo could fully appreciate the creature's terrifying scale. Its enormous thorax was supported by four arachnoid legs—scarred and gray, ending in points the size of traffic cones. A second body segment curved upright from the front, armored in overlapping, chitinous plates. Four more limbs sprouted from its sides, hinged like the arms of a mantis.

The spider-thing's elongated face stared at Leo with eight eyes—two large ones, each rimmed along the top by three smaller ones, like hideous eyeball eyebrows. All of them were sunken black pits with a single dot of glowing red peering from their centers. Four clawed mandibles pulled back from the lower part of its face, pushing away mottled gray flesh to reveal rows of jagged teeth sticking out of its gums like porcupine quills. […]

The spider lifted one of its limbs, and its pointed tip split along a set of grooves, separating into six spindly fingers. It reached for a metal band around its neck with a round gem at its throat, illuminated with a pale golden light.
But I love the fact that, despite this illustration being a very accurate representation of that description, everyone I've showed it to has been like, "But… it's so ugly!"
This makes me happy, because Dilly is a monster on the outside, but is a kind, loyal, caring friend on the inside. Which means that readers have embraced Dilly for who it is and disregarded the many descriptions of its ugly exterior.
And really, couldn't the world use a lot more of that?
Your old pal,

---
Additional reading
Here are some cool sci-fi and fantasy books you may be interested in.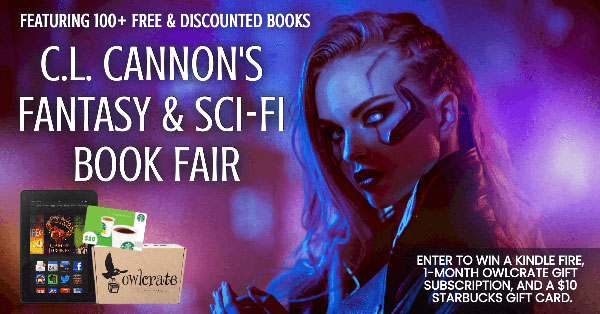 Our pal C.L. Cannon is doing another awesome sci-fi and fantasy book fair. Pop on over and check it out for your chance at winning a Kindle, and Owlcrate box, or a Starbucks gift card. Not to mention a whole bunch of great free books!
Enter to win!
---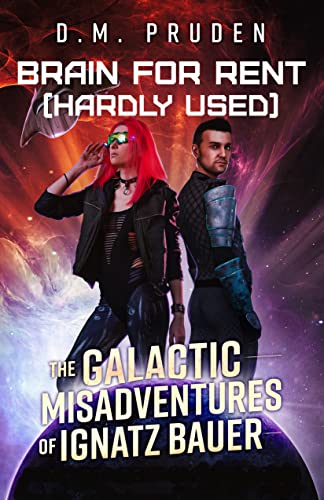 The Galaxy needs its greatest hero…Unfortunately, it has Ignatz Bauer.
by D.M. Pruden
Ignatz Bauer is a conman and a thief. He also has a stolen ship's AI living in his brain, and the intelligence likes it there; he can't get rid of it.
But a bigger problem for him is that the original owner of the AI has placed a hefty bounty on his head—just his head, which Ignatz is keen to keep attached to his shoulders.
Amanda Frey is a novice bounty hunter with something to prove. When she learns of the enormous reward for Ignatz's capture, he becomes the means to save her failing career.
But everything changes for them both when a malevolent entity seeks to eliminate anyone who might learn the secret the AI keeps—one that threatens every living thing in the galaxy.
The Galactic Misadventures of Ignatz Bauer: Brain for Rent (Hardly Used) is a sci-fi comedy that will keep you turning every page to learn if fate has made a fatal mistake by relying on this unlikely hero.
Get the lolz
---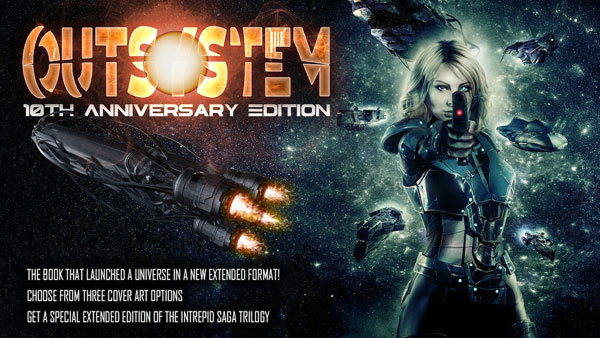 It's been ten years since Outsystem launched M.D. Cooper's Aeon 14 universe. Get a Special Extended Edition of Book 1 or the Extended Trilogy with this upcoming Kickstarter campaign!
Kick it!
---

Here are a bunch of fantasy and sci-fi books that are free to read on Kindle Unlimited!
Check 'em out
---

Need some more? HERE ARE MORE!
MOAR!