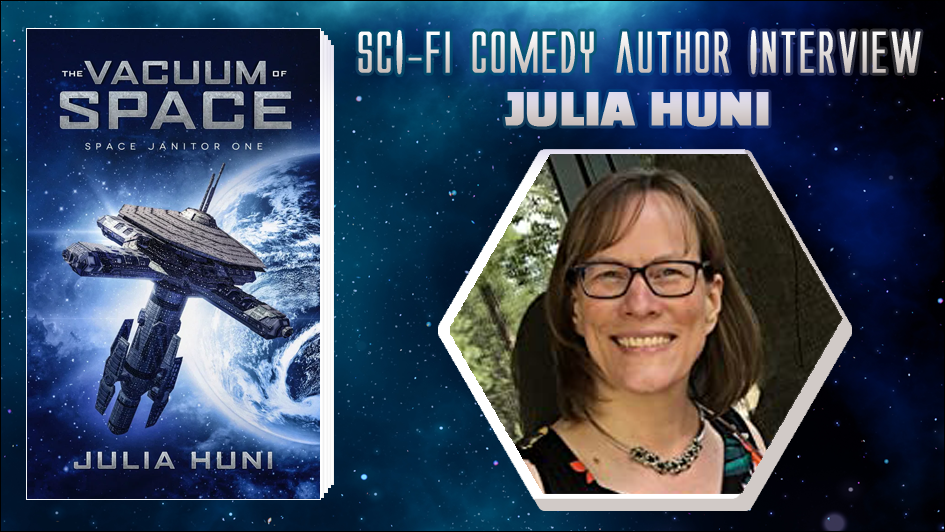 In these troubling times, we all need a little sci-fi comedy with heart, strong friendships, and plenty of baked goods. Julia Huni's Space Janitor series ticks all those boxes. In fact, they're such lovable romps, you may be surprised to learn that Julia's publishing journey started in a post-apocalyptic world… and is about to make a return trip!
I invited Julia to the Author Interview Airlock to talk about her books, her recent Kickstarter campaign, and the dirty secret of "multi-genre" books. Let's scan her ID.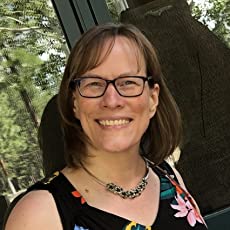 AUTHOR IDENTICARD:
Name:
Julia Huni
Area of Existence:
Central Oregon, USA
Favorite Sci-Fi Book:
Anne McCaffery's Dragonsdawn
Favorite Sci-Fi Movie/TV:
Galaxy Quest, of course
Favorite Croissant:
Chocolate—how is that even a question?
Marcus: The Space Janitor series has been said to be "like a warm hug dressed in a spacesuit" (by me). I love how these stories are fast-paced adventures with murder and mayhem, but at the same time make you feel all warm and fuzzy inside. What were the challenges and discoveries you faced while writing cozy mysteries in space?
Julia Huni: Well, the first challenge—or maybe the last challenge, since it comes after all the writing—was that no one reads cozy mysteries in space. Or at least, it's a very select few. An elite cadre of my friend Tricia, and that one old lady in England.  I think that's mainly because "cozy mystery readers" think they won't like science fiction (and let's face it, they probably won't like the hard stuff) and no one else really knows what a cozy mystery is.
When I first published, I used covers that were very cozy in appearance—cartoon-like vector drawings of a space station, with a mop and bucket. One of the most popular cozy mystery cover artists said they were spot-on for cozies. But they just didn't sell. Science fiction readers ran screaming from the room. Re-branding the series with more traditional covers (starship ass, anyone?*) made a huge difference.
The hardest part of the writing itself was just keeping track of all the stuff I'd invented. It's surprisingly difficult to keep the terminology straight when none of the things actually exist. Float tubes—or did I call them lift tubes? Holo-rings—was that with or without the dash? Readers notice those things when they're wrong.
The warm and fuzzy part—that's just how I am.
And by the way—I'm using that "warm hug in a spacesuit" line in my Facebook ads. Very effective.
From Tasti-buns to variable gravity sports to a space cruise ship, your heroine Triana Moore explores a big world with lots of fun and crazy places to go, things to do, and stuff to eat. What were your inspirations for developing this universe?
First of all, I love to eat, and so does Triana. But unlike her, I also like to bake, so imagining fun foods was right up my alley.
I'm also a fan of Janet Evanovich's Stephanie Plum bounty hunter stories. Stephanie eats a lot of packaged and fast food, gets into wacky situations, and generally bumbles around Trenton, New Jersey. To some extent, Triana was modeled on Stephanie, although she's not a bounty hunter. I think she's also a bit smarter than Stephanie. But bungling into things she doesn't quite understand allows me to put her into some hilarious situations.
When I wrote Space Janitor, even though it's set five-hundred years in the future, I purposely made the level of technology similar to what we currently have. My theory was that colonists from Earth would have lost some technology in the struggle to survive on an alien planet, and they're just getting a little beyond current levels. That made it easy to come up with almost-recognizable products, like Slami-n'Chēz wraps and Lether furniture. The sci-fi setting lets me to add things, like the multi-grav sports and high-end massaging sandals with anti-gravity abilities.
You recently ran a successful Kickstarter to fund the audiobook of The Vacuum of Space. What was that experience like? Do you have any advice for authors who want to try starting up a Kickstarter project? And how is the audiobook production going?
First, I have to give credit to Dean Wesley Smith. Someone pointed me toward his free Kickstarter course, and I modeled my campaign on his best practices. Building the campaign was fun—I looked at a lot of other campaigns to develop my reward tiers. One recommendation from DWS that was gold: for audio book campaigns, be sure to offer some non-audio rewards. Kickstarters depend on you promoting to your current readership—and I didn't have many audio fans, since I didn't have an audio book yet. My current readers supported the campaign because I offered them a new novel and a couple of shorter stories.
I also ran Facebook ads for a few days aimed at anyone who had interacted with our previous ads. A lot of folks had asked for audiobooks there, so I figured that was a good way to catch anyone who hadn't liked my page.
The Vacuum of Space audiobook is about 20% done. I had my narrator, Kaitlin Bellamy, lined up before the campaign started, but she wasn't available to really start work until November. Now that she's got the main voices nailed down, she's putting out chapters very quickly. I really love what she's doing. We plan to have the first book finished before Christmas.
In addition to the Space Janitor books, you've also worked on two other sci-fi series, the Krimson Empire books (with Craig Martelle) and your new Colonial Explorer Corps series. How are your different series similar and different from each other? What style of sci-fi do you like writing the most?
All of my series have an underlying thread of humor—I just don't seem to be able to write without it. In fact, I got my co-writing gig with Craig because I had submitted a short story to his anthology. I thought it was serious stuff, but he contacted me about writing another book because he liked the humor. I work at making Space Janitor purposely funny, but it bleeds into everything I write.
Other commonalities are a strong female main character, lots of family connections, and just a hint of social commentary buried deep beneath everything else. I don't do hard science fiction. I read for pleasure, and too much science makes my brain hurt. So I write what I like to read—light, fun, fast-paced stories with people I'd enjoy hanging out with. I guess that's a tell: if one of my characters is someone you wouldn't want to have a beer with, he's probably a bad guy.
What do you think is the best thing about writing humorous sci-fi? What advice do you have for writers who want to get started in the genre?
I know there are books out there about writing comedy, but honestly, I've never read one. I probably should…
For those starting out—if you want to reach the top of Amazon's Humorous Sci-Fi chart, write alien romance. Those green-skinned man-chests are filling up the top twenty slots of our genre!
But seriously, being funny can be hard work. You have to learn what gets the laugh—and you won't always get it right. We've talked about this before, Marcus—most of my social media comments are aimed at getting the smiley face. Sometimes it works and sometimes it falls flat. But I think those 30-second written interactions have helped me figure out what will work in print, vs. in person. (And now I've justified my social media addiction.)
I'd also say, if you want to get rich quick, don't write humorous sci-fi. Actually, don't be a writer at all. No one really knows why some books hit the big sales numbers straight out of the gate, and like any other field, the overnight success is almost always the result of years of hard work.
What's your next project?
As you mentioned, I've launched a new series, the Colonial Explorer Corps. It's the story of Serentiy "Siti" Kassis. She's the daughter of "the Hero of Darenti Four." Dad wants her to be an explorer, like him. She's not sure she wants to live in his shadow. At the beginning of The Earth Concurrence, Dad has been given a plum assignment: find and explore the homeworld of humanity. It's a twenty-year trip, so he takes Siti with him. And, of course, nothing turns out as expected.
This series has given me an opportunity to revisit my very first novel. I wrote Recycled World back in 2007. It was terrible, of course. But after I wrote the Space Janitor books, I re-wrote Recycled World. Thanks to its genre-spanning nature—don't tell anyone, but multi-genre really means it won't sell in any genre—it's been sitting in the basement of the Amazon warehouse for two years. But some of those characters show up in the CEC series. My master plan is to drive readers to that series while they wait for CEC 2.
The Earth Concurrence launched on November 23, and book 2 will be out in the Spring.
I'm also about 90% through the first draft of a new Space Janitor book: The Rings of Grissom. Since I've been advertising Space Janitor as a "complete series"—which is marketing gold, by the way—I'm calling this Book 1 of the Tales of a Former Space Janitor. This is the book I promised my Kickstarter supporters, and it brings back Triana, Ty, and Vanti, as well as a new cast of characters, including Ty's enormous extended family, all gathered for Ty's sister's wedding. Imagine My Big Fat Greek Wedding somewhere in the United Federation of Planets.
The Rings of Grissom will be out in Spring 2021.
You can sign up for my newsletter on my website: juliahuni.com. Subscribers not only get absolutely fascinating updates from me every other week, but also links to several free stories.
If you can't wait to check out Julia's books, hit the cover images above for some free previews. And come back soon for my next sci-fi comedy author interview!
---
Find Julia Huni on the Information Superhighway
---
* What is "starship ass"? See last month's interview with Ethan Freckleton and J.R.Frontera: J.R. and I met at a writer's conference in late 2017, where we heard a presentation by sci-fi author M.D. Cooper on Facebook Ads for Authors. Cooper shared that her best-performing ad of all-time was the looming backside of a spaceship. "Starship ass" was her term for it.
---
Don't miss the next sci-fi comedy author interview! Sign up for my mailing list to stay in the loop, and get a bunch of free ebooks!